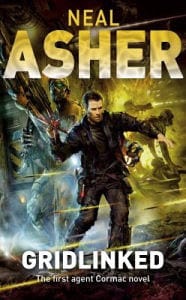 Here are the relevant sections of an email from Bella Pagan:
Amazon are planning a promotion to coincide with the Diamond Jubilee and are considering including GRIDLINKED. Details are included below, but they are seeking approval for this and it would be great if you were able to agree to this (I have).
The promotion will run on amazon.co.uk between the 22nd May and 5th June, but they are also looking at amazon.de, amazon.fr, amazon.it and amazon.es. This is the same format as their Valentine's and Easter promos, with titles included at highly reduced prices (usually 99p). Amazon have also made a particular request that GRIDLINKED should be included, as they wanted to tie it in with use of the blog you wrote for them a little while ago, which they haven't put up as yet.