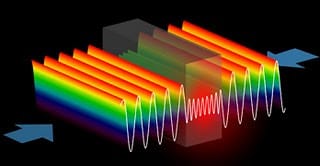 And of course I'm thinking about Polity dreadnought defensive systems…
New Haven, Conn. — More than 50 years after the invention of the laser, scientists at Yale University have built the world's first anti-laser, in which incoming beams of light interfere with one another in such a way as to perfectly cancel each other out. The discovery could pave the way for a number of novel technologies with applications in everything from optical computing to radiology.

Conventional lasers, which were first invented in 1960, use a so-called "gain medium," usually a semiconductor like gallium arsenide, to produce a focused beam of coherent light-light waves with the same frequency and amplitude that are in step with one another.
Last summer, Yale physicist A. Douglas Stone and his team published a study explaining the theory behind an anti-laser, demonstrating that such a device could be built using silicon, the most common semiconductor material. But it wasn't until now, after joining forces with the experimental group of his colleague Hui Cao, that the team actually built a functioning anti-laser, which they call a coherent perfect absorber (CPA).
Oops, get back to those copy-edits Neal!