I don't know what the precise statistics are, but most smokers really want to be non-smokers though have some problems getting over an addiction stronger than that to heroin. I myself am an expert at giving up. I've tried just about every year since before I was thirty and have given up for periods ranging from a day to a year. Surprising as some may find this, having read my ranting about smoking bans, I do know precisely what has its claws in me and precisely what it's doing to me.
I know that before I gave up last time I was starting to need asthma inhalers and within a few weeks of having given up did not need them again, until, that is, I started smoking again. I know that if I smoke below eight cigarettes a day the pain in the left side of my chest fades away, and if I smoke more than ten cigarettes it comes back hard. I know that out of every fifty cigarettes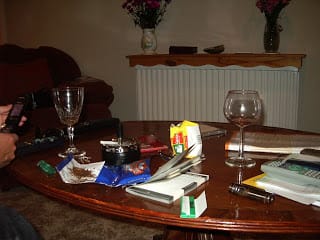 I smoke there's about half of one I actually enjoy, the rest I smoke just to stop myself feeling the misery of withdrawal. Exercise hurts when I smoke, is a pleasure when I don't. I find it difficult to lie on one side while in bed and sometimes, when I've got up to go to the toilet, I return to bed out-of-breath. I assume this is due to all the crap in my lungs spreading out while I was lying down.
I know that all these symptoms, and others, will only get worse if I continue smoking. The latest one I've been getting is ear infections that then work their way into my eustachian tubes. Obviously the fags are not responsible for the bugs concerned, but they create and exacerbate the weakness they exploit. Working at giving up I've been trying to chew a piece of nicotine gum before a craving hits – a 4mg piece can normally keep me off the fags past midday almost cutting my cigarette consumption by half.
Prior to my father's death I contracted another of those ear infections and it just lingered. Over the last week it travelled by eustachian tube from left to right ear, with a nice sore throat stopover in between, finally arriving at crushing eyeball station to play golf with my tooth nerves and attach a compressor hose to my sinuses. I was getting heartily sick of this until I discovered the virus that had arrived was only a scout. The whole army came next and poleaxed me. Flu, flu-type symptoms, bad cold, man-flu, call it what you will. I felt as rough as a pineapple. One day I felt so cold I had the heating at over seventy and additional to my usual garb wore a jumper, Arctic fleece, dressing gown and woolly hat. My throat soon felt like someone had wire-brushed it and I sat in a chair wishing it would all go away.
For three days I chewed nicotine gum in the morning and smoked five cigarettes in the afternoon and evening. I blame paracetamol and Strepsils – without them I might not have been able to smoke at all. This last Saturday I wondered what the hell I was doing and chewed a second piece of gum in the evening and smoked nothing. Same again on Sunday.
But it's the nicotine I'm addicted to – a fact that was brought home to me by this website from which I've borrowed the graph shown. So today I haven't used the gum since I want to get those 72 hours behind me, and there's no avoiding them. And the same from now on in … never give up giving up.