Sent on Twitter by Geoff Utley from Compass Books in San Francisco Airport. Chris – presumably the guy in the photo – loves my work.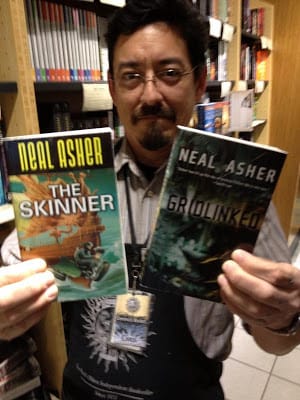 So at this point it's worth reminding book buyers and readers in America:
Here's an update on the news for my American readers. The people at Night Shade Books are looking forward to bringing The Owner Trilogy to print in the US and have scheduled The Departure for publication Feb 5, 2013 with Zero Point following May 7, 2013 and Jupiter WarSeptember 3, 2013 (catching up with publication of that last book in Britain). Nicely keying into that my short story The Other Gun will be appearing in Asimov's April/May issue that year with, of course, mention of these books in attached biog.