From October to December the Cretans start producing raki. Just prior to this you'll see pick-up trucks motoring around loaded with crates of grapes or big brown plastic barrels as preparations are made. Traditionally the stuff was supposed to be produced from whatever was left of the grapes after pressing for wine, but I saw none of that. The grapes were transported straight from the vine to the barrels, were mashed up and left to ferment with their natural yeasts. Anyone who knows anything about wine making will know that the largest quantity of alcohol is produced in the first few weeks of fermentation. All the time the wine spends in demijohns or barrels thereafter is just to improve the quality of the wine, and wine was not the aim here.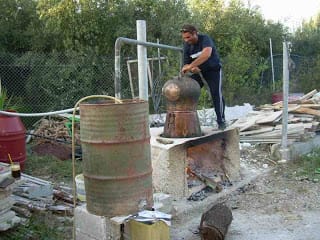 The fermented mash is then loaded into the raki still and distilled. The result, raki, is a bit like grappa and is not ouzo. What you get is pure alcohol (with a bit of water) rather like whisky before it's spent time in a sherry barrel to give it extra flavour and colour.
This stuff is made all over the island, even small villages will sometimes have three or four different raki stills. Some is for personal consumption and some for sale. We can buy Ziros raki from from a garage just a few miles away. It costs 4.50 Euro for a litre and a half. I've visited the place often enough now that I just go round the back to the barrels and fill up my bottles myself. It is also frequently a gift, along with olive oil, when eating with Greeks. In kafenions you can buy a karavache of raki for 1.50 Euro, which gives you about five good shots. Along with this you'll also get mezes (usually for free) – plates of usually seasonal food: cold cooked broad beans and segments of sweetcorn, olives (always), raw broad beans, pear and apple, peanuts, tomato and cucumber sprinkled with sea salt, artichoke hearts with lemon juice and salt, cooked 'horta' … the list is a long one.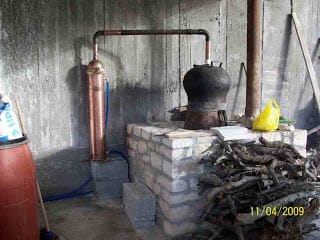 When the Cretans run a kazani (I'm still not sure what this name applies to: the still, the place where the still is located, or the party they have there) they usually fire it with olive wood. Since distilling sometimes hundreds of litres of raki takes some time they make an occasion of it. Guests are invited, raki glasses are never allowed to grow empty, and either on the fire or on a barbecue made with hot coals plenty of food is cooked – brisolas (marinated belly pork), baked potatoes, roast sweetcorn, chestnuts, sausage, rabbit, garlic bread – whilst other raw veg and fruit is also provided – pomegranites, cabbage with lemon juice and salt, artichoke hearts etc.
We've been fortunate enough to be invited to a number of these kazanis. The first picture is of the still at a Greek friends house (the guy standing there is Mikalis – excellent fellow). We're also fortunate enough to have one of these stills located about thirty feet from our front door – a good staggering distance. The second picture is of that.