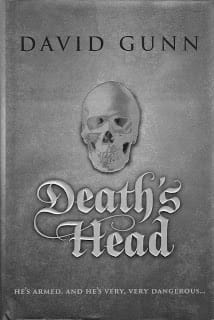 Well, I know I'm enjoying a book when everything else stops until I've completed it. This had its faults, but probably the same faults as mine in that the reader is too hooked into the action to take in all the detail. I was confused about the political set-up here until the end, and the snake heads were right out of Stargate Atlantis, but none of this was enough to distract me for long. David Gunn's Death's Head started off loaded with violent action and horror and continued in that vein, so I was hooked from about page two, then hooked landed gutted and fried in batter as soon as the talking gun put in an appearance. Yeah! Fuck the literarty-farty crap in the SFF world that has the self-proclaimed arbiters of taste creaming their panties. Take those oh-so-worthy tomes and shove 'em where the sun don't shine. This took me right back to the fun I had reading E. C. Tubb's Dumarest saga, Edgar Rice Burroughs John Carter on Mars or the old Robert E Howard Conan books!
Only those were books I enjoyed as a teenager … um, perhaps I haven't grown up … do I want to? Nah.
Nice to read unpretentious solid cover-to-cover entertainment without any concessions to the pc-focus-group-bullshit age we live in. Nice to read something that isn't a dreadfully sincere allegory on our times, or a sophomore comment on this that or the other political, social, racial, religious or environmental situation by some prick having an attack of literature. It's often the way when describing books to compare them to other books, or films – whatever. This I would call Starship Troopers meets Commando.Great fun.