We took a wander up to Chatteris a week ago, stopped in a pub called The Cross Keys, then sloped back to Soham to do some research into Caroline's family history. (Of course the latter place is famous for somewhat nastier events than being the breeding ground of the Sizer family. I did wonder about a rather odd look I got when I asked about the location of a particular graveyard) This research generally involved clumping about graveyards checking the names on tombstones, checking the names on a war memorial, then drinking beer and eating bacon and egg baguettes. Here's a couple of pictures from the area. First off The Cross Keys itself: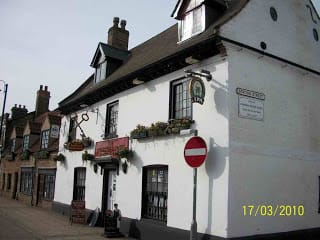 Next the well-guarded door to our room:
Caroline's parents got the better bed!
One of our hunting grounds:
One of our finds (Sizer):
The Fountain – location of those wonderful baguettes, and where we wished we had stayed: