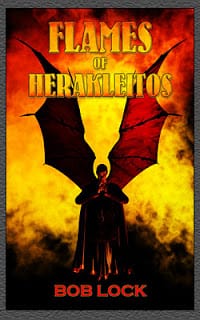 Well, it seems a regular visitor here is climbing that rickety ladder into the publishing world. Congratulations to Bob Lock for getting his book Flames Of Herakleitos published by Screaming Dreams. Here's the blurb: It's 1969 and a four year old girl witnesses the terrifying death of her father, which is attributed to Spontaneous Human Combustion. The child is unable to explain what she saw, and shortly after the incident, whilst in hospital, almost suffers the same fate as her father when she is attacked by an unknown entity. But she survives. Thirty years pass, Lucy Fenton, has grown up to be a writer of horror stories and is the star of their film versions. She is haunted by the morbid feeling that her long-ago attacker has not yet finished with her. It turns out she is correct when once again it visits her. This time, however, she manages to not only fight it off but to pursue it – to a parallel world where everything she has ever known is turned on its head. Flames Of Herakleitos is a 'YouWriteOn.com Top Ten Book'
Due to be published in paperback by Screaming Dreams in 2007 Cover artwork by Steve Upham
(for advance preview only and subject to change) Don't forget to check out the author's website.