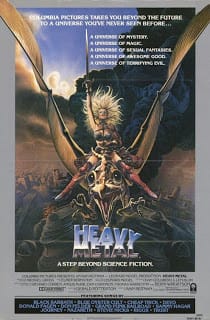 Well, since it's now out there on the Internet, there's not much point in me keeping quiet about it. Hopefully Hollywood Insider won't mind me pinching this:
David Fincher's Remake of Heavy Metal a No-Go at Paramount.
An article on Jul 9, 2008, 03:44 PM by Nicole SperlingNot even a bigshot like David Fincher could keep Heavy Metal at Paramount. The Zodiac director, who is currently putting the finishing touches on his highly-anticipated Brad Pitt movie The Curious Case of Benjamin Button, has been spearheading an edgy remake of the 1981 R-rated animated flick inspired by the 1970s fantasy magazine of the same name. But Tim Miller, whose Blur Studio is handling the animation, says he and Fincher, along with current Heavy Metal publisher Kevin Eastman, are now shopping the film to other studios because Paramount's new production execs felt the movie was too risque for mainstream audiences. The project is an amalgam of erotic and violent storylines penned by well-known sci-fi scribes like Steve Niles (30 Days of Night), Joe Haldeman (The Forever War), and Neal Asher (Gridlinked). The concept is to use eight to 10 of these shorts in a single movie with each segment helmed by a different director (Fincher is on deck to direct one). Though things are on hold until another studio picks it up, Miller is confident the film will eventually see the light of day. "David really believes in the project. It's just a matter of time," Miller says.
Five of my stories up for inclusion — about half the film.