As I said in the previous post, during lockdown I wrote a few novellas. Well, I've been sporadically writing novellas for a while – very often when I sit down with the intention of writing a short story it grows in the telling. Two of them have in fact turned into the first two books in my next contract with Macmillan.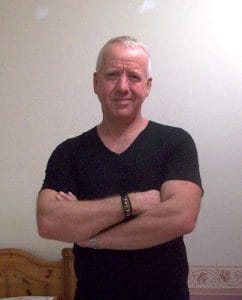 I've published some of these over the last year or so. One was Monitor Logan in World War Four edited by Sam M. Phillips and Adam Bennett in March last year. Another is Moral Biology in a magazine I once read copies of when a teenager, and even then they were old. Analog Science Fiction has been running since 1930 and to me, just like Asimov's, is a legendary publication so it was great to be published there. And another called The Bosch I published myself to Amazon Kindle and POD.
But still I had plenty more yet to find a home and, trying to be tidy about this, I decided to publish them as a collection. That I'd written a few during lockdown and come to the decision to publish them at this time, Lockdown Tales seemed like the perfect title. Happily I can announce that the collection will be published by Ian Whates of NewCon Press in the UK, so that means stuff like limited signed editions and other good stuff.
Lockdown Tales consists of six novellas and novelettes (depending on what your definition of those are) and amounts to about 150,000 words (about the length of The Skinner). These stories are:
The Relict is found buried in old lava in what is coming to be called 'Far Future Polity'.  The first part exposed is a huge metal claw. . .
Monitor Logan was published in WWIV and not. Call this the director's cut if you like. In this I tell the backstory too. Science fiction High Plains Drifter.
Bad Boy is what, with their tendency to understatement, the Hoopers of Spatterjay have named a giant whelk, which has come up from the ocean floor to denude islands and sink ships.
Plenty is the name of this 'Far Future Polity' world where Ben has been stranded. He is surviving, just, despite the Night Stalker. And he too discovers the utility of old technology dug out of the ground.
Dr Whip is the only survivor of a virus aboard a space station. He has been changed, irrevocably – not by the virus but by the one who brought it to the station: Penny Royal.
Raising Moloch sees the return of Jonas Clyde the hooder expert so, of course, hooders are involved. Raising a monster can be a risky occupation. . .
There you go. I've written an introductions to these as a whole and individually. Publication date is to be decided – maybe towards the end of this year. I hope you'll enjoy them!