Blimey, it seems they are now printing or reprinting mass-market copies of Brass Man in the USA, which means I get my free books. This is great, I really love free books, but what the hell do I do with them? And how much longer before my loft collapses on top of us one evening? I guess I could try selling them as signed copies over the Internet. Mmm, perhaps it's time to put up a list again of what I have available…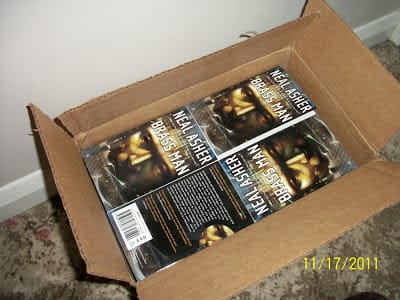 And here, of course, is a blog post demonstrating how I am trying to escape the mind-numbing tedium of editing. However, I should not complain! Because there's a danger here of me turning into one of those effete writer pricks who complains about how he suffers for is art and how it is all such a terrible trial.
What I need to firmly plant in my mind is grafting all day digging a foundation hole in clay, for £30; strimming round trees and, because I was wearing goggles only and not a full-face visor, discovering what dog shit tastes like; pulling off a glove, after foolishly trying to reposition a running mower deck, and seeing the end of my finger split open and the bone frayed like a paint brush; never seeing the sunlight for most of the winter working in a machine shop, and perpetually stinking of coolant oil … I'll stop there, you get the idea.
So, back to editing with joy in my heart!