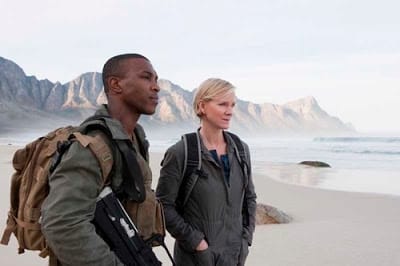 Well, I watched the first episode of Outcasts and I'm finding it difficult to summon up the will to make a coherent criticism of it, but I will strive to do so. It was dreadful and dull. I was reminded of some of the dry history tomes I've tried reading. In the past I've really wanted to find out more about the Roman Empire, the Aztecs, the Saxon Kings whatever, and on just about every occasion I've been defeated by how the historian concerned managed to turn an exciting and interesting subject into something as dry as dust. Here in Outcasts we have the colonization of a new world, the landing of an interstellar spacecraft, intrigue, murder, weird things in the woods, and it grabbed me about as tightly as a dead octopus.
The sets were dull, the clothing is dull, the story is dull, the extrapolation is dull etc.
But I guess those history books were different. Boring they might have been but they never made me cringe.
But why was it so bad? It spent far too much time having people emoting and sobbing at their computer screens; it spent far too much time 'character building' but not in a good way; it is obviously getting wrapped up in right-on human issues, man. The entire plot can be summed up as: having a bad time, latest spacecraft crashes. And it was obviously another spacecraft coming direct from planet North London.
Oh yeah, and apparently they're on a world with a breathable atmosphere where parallel evolution has produced pine trees and grass. Apparently Earth has been rendered uninhabitable, though meanwhile they managed to put together an interstellar space drive and colony ships.
Nice replacement here for the awful Survivors, and it'll probably get dumped just as quickly.
Ach! I give up.