I've just put this collection up on Kindle. It will also be appearing as an Amazon paperback sometime soon . . .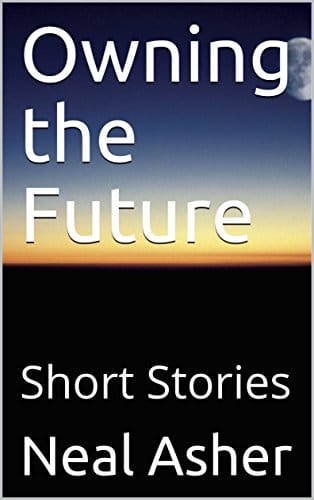 I have a varied collection of short stories in my files and, of course, the temptation is there to dump them on Kindle, take the money and run. However, though I think some of them are great, some aren't, and some are profoundly dated. I am aware that there are those out there, who will just buy these without a second thought, so I have to edit, be selective, and I damned well have to show some respect for my readers. Kindle in this respect can be a danger for a known writer, because you can publish any old twaddle and someone will buy it. Time and again, I've had fans, upon hearing that I have this and that unpublished in my files, demanding that I publish it at once because surely they'll love it. No they won't. A reputation like trust: difficult to build and easy to destroy.
I've therefore chosen stories other people have published here and there, and filled in with those I really think someone should have published. Here you'll find some Polity tales, some that could have been set in the Polity (at a stretch) and some from the bleak Owner universe. Enjoy!
Neal Asher 04/06/18
Stories:
Memories of Earth
I believe I wrote this one as a publicity exercise for Tor Macmillan while they were publishing the Owner trilogy, but then it wasn't used. I subsequently shunted it off to Asimov's and they published it in their October/November 2013 issue. There's also an audible version on Starship Sofa (No. 383).
Shell Game
This appeared in The New Space Opera 2 edited by Gardner Dozois and Johnathan Strahan published in July 2009.
The Rhine's World Incident
First appeared in Subterfuge from Newcon Press in 2008, next appeared in In Space No One Can Hear You Scream from Baen Books in 2013. This is the story where the swarm AI the Brockle makes its first appearance.
Owner Space
Appeared in Galactic Empires published by Gardner Dozois in 2008
Strood
First appeared in Asimov's in December 2004, next in Year's Best SF 10 published by Hartwell and Kramer in 2005. StarShipSofa did an audible version: No. 463
The Other Gun
Cover picture story in Asimov's April/May 2013. This is a backstory for the Rise of the Jain trilogy – it concerns the Client.
Bioship
This appeared in George Mann's Solaris Book of New Science Fiction in 2007
Scar Tissue
Not appeared anywhere at all!
The Veteran
There's an audible version of this on Escape Pod, episode 118, read by Steve Eley – went up there in 2007