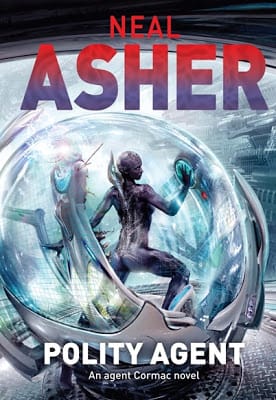 Here's another review from Mark Chitty as he steadily works his way through his backlog of my books:
Polity Agent is the fourth book in the Agent Cormac series, a series I've been catching up with and thoroughly enjoying. The second and third books in the series, The Line of Polity and Brass Man, dealt with the emergence of Jain tech and Skellor's use of it and was a fairly self-contained duology within the main story. Of course, just because that sub-story concluded it doesn't mean everything is fine, far from it – Jain tech is still out there and Polity Agent hits the ground running.

As a runcible opens from 800 years in the future the team that were sent to return the Maker to its civilisation in the Small Magellanic cloud comes through in a panic, the Makers overrun by Jain tech. With runcible time-travel not recommended by the AI's of the Polity due to the huge power requirements and dangers it involves, this situation is used solely to destroy the Jain infested Maker civilisation and most of the Small Magellanic cloud. This event raises many questions, most prominent of them being the purpose of Dragon, the huge bio-construct that the Makers created and sent to the Polity. Meanwhile an entity called Legate is distributing Jain nodes to certain people within the Polity, one of these being Orlandine, a haiman who takes a whole different approach to studying the Jain technology she has in her possession, while another is a dangerous separatist leader on the planet of Coloron. Meanwhile Horace Blegg, the infamous immortal of legend, is slowly learning more and more about jain tech and of himself, while Cormac continues to discover more about Dragon while trying to limit and eradicate the spread of Jain tech. And then there is the King of Hearts, a renegade AI whose journey out of the Polity leads him to discover something very dangerous indeed.
Polity Agent can be found here on Amazon and here on The Book Depository (free international shipping).