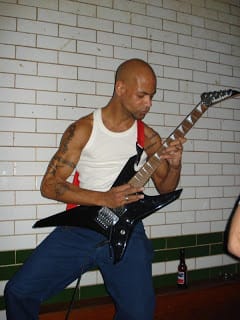 As you all might know the sites Facebook and MySpace are crowded with indie bands, professional musicians and the like. Some of these have contacted me and some have obviously found my weird-ass writing inspirational.
One of the first to contact me (on MySpace, but he's on Facebook too) was one Miguel Vella (guy with the guitar) and he even came along to one of my signings at Forbidden Planet. He's now apparently working on a concept track called Jerusalem AI. Love it!
The other one with the freaky hair, called Jazizo Cappucino, based in San Francisco, has already produced a track called Prador Moon.
If you are on either of the sites mentioned you can check out samples of the music.