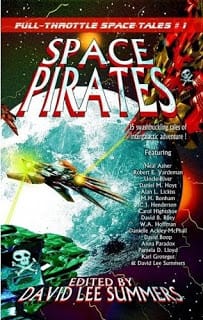 One of the magazines started submitting to just at about the time I was being taken on by Macmillan was Hadrosaur Tales, which it now seems publishes Tales of the Talisman and also some books. My first tale appeared in issue 8 and will be one anyone who has read Gridlinked will recognize The Dragon in the Flower. Subsequently The Thrake appeared in issue 16 but by this time I was finding it difficult to unearth stories that hadn't appeared somewhere or were being saved for a collection. However, when the editor David Lee Summers asked me if I had something nautical to appear in his Space Pirates anothology I did have something nasty called Bad Travelling available, a tale about a rather traumatic sailing voyage on an alien world and, though it wasn't Spatterjay, there were some seriously nasty things in the sea.
Here's the length blurb for this anthology:
Space Pirates it the first anthology of the Full-Throttle Space Tales series. Edited by David Lee Summers, editor of Tales of the Talisman, Space Pirates contains fifteen swashbuckling tales of pirates in space, by established and rising-star authors. The contents of this treasure chest of adventure include these swarthy tales of deep-space piracy: Eating Vacuum, by Robert E Vardeman: An asteroid miner matches wits with a desperate pirate who is short on oxygen. On the Even of the Last Great Ratings War, by David Boop: Genetically engineered animals battle humans for control of the space-borne airwaves. Adrift, by Carol Hightshoe: The Flying Dutchman legend takes to outer space. Bad Traveling, by Neal Asher: Pirates sailing the seas of a distant planet find their match in alien monsters of the deep. Carbon Copy, by Denielle Ackley-McPhail: Recently demoted Private Alexander suspects that one of the ships of the space fleet are bearing false colors. Space Pirate Cookies, by C.J. Henderson: Aliens are mocking humanity, and that means war. For a Job Well Done, by David Lee Summers: A ruthless pirate finds himself rescuing a victim of human trafficking on the planet Epsilon Indi 2. Lunacy by Anna Paradox: The moon is being taxed to death, and a teenage girl is caught in the middle.by a satellite laser weapon. The Claims Adjustor, by David B. Riley: An insurance claims adjustor from Mars wants to ferret out the pirates who are driving up the cost of shipping from Earth. Never Lie to Yourself, by Uncle River: When a young boy marooned in a space habitat disaster is rescued by bloodthirsty pirates, what exactly does he owe his rescuers? Star Wench, by Daniel M. Hoyt: Captain Beech of the HMS Bounty IV must match his wits against a notorious pirate to save his spaceship's crew. Searching the Vastness of Space, by Alan L. Lickiss: Rory is a bureaucrat who believes he has discovered proof of interstellar piracy, but finds that pirates are not always what they seem. Captain Barti Ddu, by M.H. Bonham: Morgan Roberts' life is saved during an attack by Atolian Pirates.by an Eighteenth Century Buccaneer. Earth-Saturn Transit, by W.A. Hoffman: Pirates in deep space are bound by debilitating circuits in their heads, but where there are pirates, there will be mutineers. Ship's Daughter, by Pamela D. Lloyd and Karl Grotegut: A pirate's daughter must prove herself to the rest of the crew, without losing her humanity.