Here we go. Andy Remic contacted me about maybe submitting a story to Vivisepulture. Now, I don't really have any Polity related short stories that haven't already been published somewhere, but I do still have a few nasties in my files, so I sent him one called Plastipak. You'll find the kindle version here. I'm told:
The official release date is 20th December, and the antho will be going out for the special Christmas price of £0.99p (to try and get it up those Amazon charts!!). On 26th December it will revert to £1.99.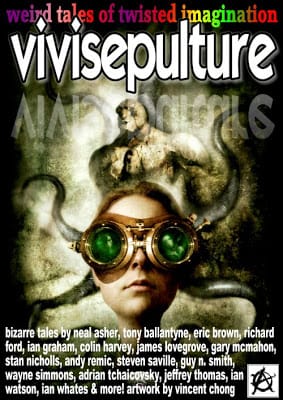 Edited by Andy Remic and Wayne Simmons
Welcome to our anthology, a collection of weird and bizarre tales of twisted imagination by Neal Asher, Tony Ballantyne, Eric Brown, Richard Ford, Ian Graham, Lee Harris, Colin Harvey, Vincent Holland-Keen, James Lovegrove, Gary McMahon, Stan Nicholls, Andy Remic, Jordan Reyne, Ian Sales, Steven Savile, Wayne Simmons, Guy N. Smith, Adrian Tchaikovsky, Jeffrey Thomas, Danie Ware, Ian Watson and Ian Whates. Artwork by Vincent Chong.
The anthology is dedicated to the late Colin Harvey, with great affection.
In the tradition of Poe, Kafka, Borges and H. G. Wells, this collection of weird stories are written with the primary drive of presenting twisted deviations of normality. Whether it's the deviant factory workers of Neal Asher's Plastipak™ Limited, the pus-oozing anti-cherub of Ian Graham's Rotten Cupid, the acid-snot disgorging freak of Andy Remic's SNOT, or Ian Watson's alternate zombie-crucifixion, each story will drag your organs up through your oesophagus and give your brain a chilli-fired beating.
• WEIRD TALES
• DISTURBING CONCEPTS
• DEVIATED BLACK HUMOUR
• NO GENRE LEFT UNGOUGED
Vivisepulture
is an EBOOK original anthology edited by Andy Remic and Wayne Simmons.
Vivisepulture
can be purchased from
www.anarchy-books.com
in PDF, EBOOK and MOBI formats.