Tricky writing about yourself…  briefly then, my name is Monique Gudgeon, born in 1958 which makes me 60 next year – heavens above!  I live in the depths of Dorset, England and am lucky enough to run a sculpture park with my sculpting husband Simon, and as Neal says I can plug stuff, here is our website – www.sculpturebythelakes.co.uk – visit as you wish, virtually or in corporeal form.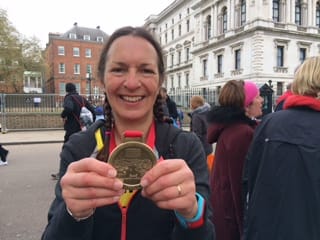 The blurb hidden somewhere in the website says this, "Monique has been gardening in various capacities since leaving London and the world of public relations back in 1992.  Her horticultural career has led her from building gardens at Chelsea Flower Show (back doing that again next year), to a very short stint as a garden designer, and finally working at the world-renowned Architectural Plants nursery in Sussex.  She now concentrates her energies on her own garden as well as caring for six dogs and her husband, in that order."
My first encounter of the world of SF was through my father who was a big Edgar Rice Burroughs fan.  First the Tarzan books and then the Mars series, Carson of Venus, Llana of Gathol, etc; from there we progressed together through John Wyndham's work – The Day of the Triffids, The Midwich Cuckoos et al – then he left me to go and explore thrillers and spy novels, but by then I was hooked.   And so it has been ever since but with a generous sprinkling of fantasy and magic thrown in along the way – who doesn't love a dragon?  My first encounter of Neal Asher's work was through a friend in San Francisco who recommended I start with The Skinner, she also admitted that she would like to be transported to live in The Polity.  I kind of agree, there is much to recommend it, especially the autodoc, runcible gates and sarcasm prone drones and AIs, but it also sounds kind of dangerous and I'm not very brave.  Why I enjoy Neal's books? He writes an excellent fast-moving yarn with some fabulous characterizations, imaginative landscapes peppered with fantastic beasts, plus the baddies are REALLY bad and the weapons are awesomely destructive.  What more do you need in a SF novel?
I'd love to read more about Orlandine and I kind of wish that naughty old Sniper would reappear one day, although he must be very old by now…
I ran the London Marathon in 2016 in aid of The Dogs Trust and I support some dog rescue and re-homing charities here and in Spain – I like dogs more than people mostly…