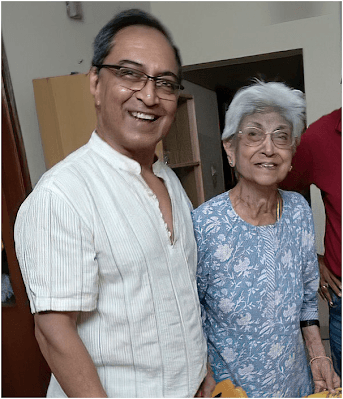 "Snick, snick" "Whirrrrr" "Brrrrp" "Grrrr, grrrr, grrr." Not sounds from a Neal Asher story that grabs you by the throat. It's me cutting my mother's hair, while she growls with each breath like a grey panther, a residual effect of the intubation that scarred her trachae during her last ICU staycation. Tufts of white hair litter the floor while I work my craft. I'm thinking pink highlights. Mom says she doesn't care, doesn't have to look at it. She used to, back in the salon days, when she would climb two flights up the rattling spiral stair from the main street where humanity flows the wrong way. She was 90 then and wanted the right cut. At 80 she had cataract surgery, one lens fixed in the distant past, the other near-time. They are both hazy now, resulting in occasional fights with vaguely described "people". A year ago in the ICU, while she had half a dozen tubes in her, she came to fisticuffs with the neighbouring patient and her husband. I asked her who won – she thought for a bit and sadly said, I think I lost.
I put up a bio on Neal's blog (https://www.nealasher.co.uk/2017/08/) in August 2017's "Who Reads My Books" post. It lays out the arc of my life and literary interests, at least till 2017, when I was still traveling and photographing the world, working part-time,and exercising intensely. This is an update, so I will try not to repeat myself, except for the basics. I am 69, a trained physicist and retired engineer. I had retired at 60 to avoid being transferred back from Bangalore, where my mom and dad lived with me, to my base in Houston, Texas. I watched over my dad for the last five of his seventeen-year spiral into the black hole of Alzheimer's. His body was army-strong, his brain was swiss cheese as he Benjamin-Buttoned his way back to a zygote. And now my mom, nine years later, is diminishing rapidly. I am their only child, so all arguments about their care were with myself.I had not lived with my parents since the age of ten, when I went to a Jesuit-run boarding school for boys, though I visited home for the longer holidays.Hiding out in the library from the sports-mad padre's, I found both fiction and my interest in science. I enjoy my own company and always dreamt of an unbounded life. No long-term plan I have ever made, nor scenarios for which I have prepared, have ever worked; but acquiring plenty of resources and developing flexibility has served me well.
Coming back to India after 40 years away was not a pleasure, but an unregretted necessity. You can never go home. Not when the country you left uncrowded and free has nearly quadrupled in density. Demographic dividend? Bah, humbug. You don't get that just by reproducing or looking at per capita GDP. You need good governance, good nutrition and affordable education for the masses, infrastructure, and capital. The quality of life sucks, as does the air. It is a land of dust, which turns to mud for the monsoon. But the young, they don't know it. They do know they want a new smart phone and a scooter. And if they can't find a job, they can steal. Or better yet join the bureaucracy through our brilliant quota system.
What's changed since 2017? I run a single patient old-age home. Full-time, no breaks anymore. In Bangalore, India. This has put a stop to my greatest pleasure, travel to new, far-off places. It has also curbed a few more pleasures, the most important being old, retired and having fuck-all to do. Goodbye leisure. My maximum attention span lasts 30 minutes, after which there is something I must do. Remember having toddlers? I never did, but I imagine it is remarkably similar, except your mom and dad won't grow up and leave the house. And possibly return to bug you when you are old.
Why Bangalore? It is cruel to move old folks across the world at the fag-end of their lives. And healthcare is unaffordable for foreigners in the U.S.A. While she is uninsurable in India too, I can afford my mom's care here, and hire people to help at home. However, this is not a good place for an introverted self-contained and self-reliant person (me) to live. And having help in India comes at a huge unforeseen cost, not entirely expressible in rupees. Every person you hire has a large and extended family. Ask a friendly question and you find yourself paying for someone's brother's college education. Or air-con. Or operation(s). Not the way it worked in the U.S. when I hired help.
So now, I travel through e-space searching out new music, research in science, history, biology, health, fitness and longevity, archaeology, physics and whatever else is new and not connected with current events, politics, and people trying to give me life-lessons. The roads are beyond awful and the blind may drive here, but the internet connectivity is great. Netflix, Amazon Prime Video and an Indian service that consolidates several other content providers are all accessible.
Like Neal, I'm encouraged enough by longevity research to expect that I will have a long health-span with my focus on nutrition, exercise and supplements that fight senescence. I will optimistically gloss over the genetic aspects. Just before India's corona-shutdown in March 2020, I managed to achieve my lifetime best inclined bench press (2 seven-rep sets at 100 kg), not bad for someone 68 years old, 5 ½ ft tall and 70 kg. Someday I will be back in the gym and do better. I will get back my guitar skills, regenerate my knees and ski again, overcome my panic attacks and scuba again. Nah, scratch the last two.
And, of course, there is reading. Late at night, mom's asleep, I can light up the Kindle and open to where I left the last Asher sci-fi mind-blaster, or a graphic novel by Jodorowski, or the latest Phillip Pullman. I don't read a lot anymore, but I always look forward to short science fiction (Azimov's, SF&F magazine) and my favourite few authors. The best voyages are of the mind.