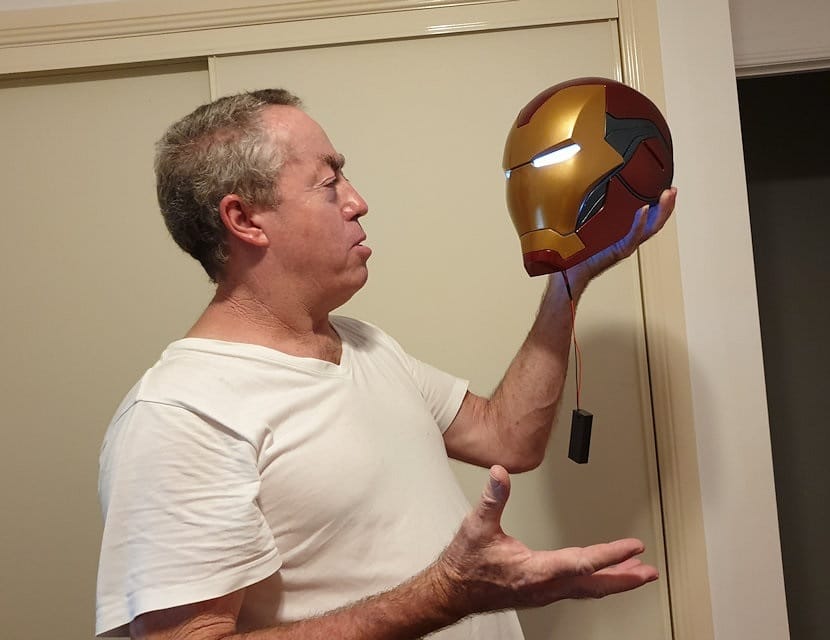 Alas poor Tony Stark, I knew him well.
Who reads your books? Well I do, Neal. I was born just before JFK took that fateful trip past the grassy knoll in Texas. I'm Geordie of origin but have lived nearly all my life in the Lucky Country, Brisbane Australia, my parents being 10 pound poms. I am so grateful for them for having the guts to pack their meagre belongings and kids and sail half way around the world to who knew what. I began my love of books at the age of 10 when our library teacher read a passage from The Lion the Witch and the Wardrobe. After the lesson I immediately sought out that book and read it cover to cover, and so began my love of reading. I recall devouring The Alfred Hitchcock Three Investigator series of books as a young lad and as I grew older then discovering horror, with Stephen King and Dean R Koontz being my main diet. I also discovered pot and Michael Moorcock around the same time and then broadened to anything from James Clavell through to Wilbur Smith. I somehow ended up doing apprenticeship and became a carpenter after leaving school and did all manner of work from constructing high rise buildings to building lobster tanks for restaurants.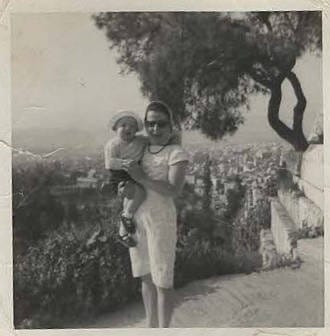 Stop over in Greece 1964 Mum and me.
I eventually grew bored of this and joined the Air force in my early thirties and after a few years got an all expenses paid trip to the Arabian Peninsular. It was some time around here in the Air force that I stopped reading books. I think this was due to me living on base and the rise of the internet and online gaming, which I embraced. Moving on 5 yrs or so, after getting married and leaving the air force to work as a civvie, one day someone left a copy of Alistair Reynolds Chasm City in the lunchroom, I took it home and decided to read it and that was it, I was back in the reading groove. I read all of Reynolds books and was blown away by them and then was looking for something new. At the time, much to the disgust of the wife, I had embraced and was obsessed with home brewing beer to the point of winning a state title and a trip to America. I was on a home brew website one day browsing the off topic thread where someone had asked for a good read and someone else replied The Skinner by Neal Asher, I googled it and saw this awesome blue skinned, evil, bizarre looking monster and thought "That's for me" I got it and was totally blown away by the world of Spatterjay and the flora and fauna ecosystems Neal had created. I read all his works and alternated between him, Reynolds and then discovered the brilliant Reality Dysfunction by Hamilton to keep me reading between Neal's releases. Then one day not too long ago, knock me down with a feather! I discovered he would actually talk to his readers on his Facebook page, I was totally blown away and embraced it and hope I don't annoy him too much. I've recently reread the Cormac series, just finished Lockdown Tales and am currently on Owning the future.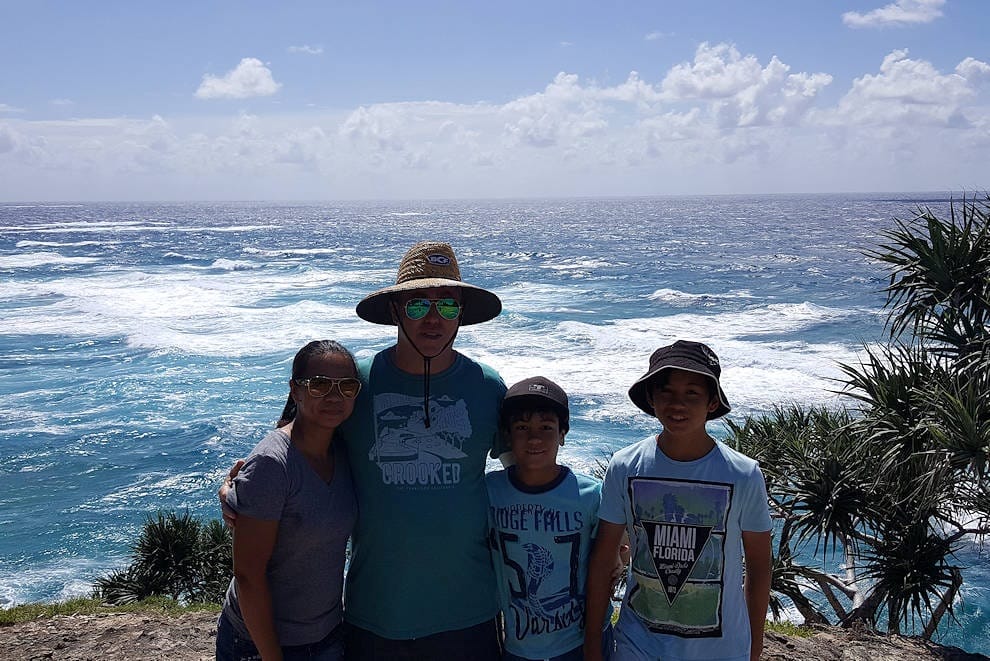 The Family at Stradbroke Island about 1hrs drive and 40 min ferry trip from home.
I love listening to Pink Floyd, playing a bit of bass and am building a full sized 3D printed Mark 85 Iron Man suit just for something different (I love Iron Man). I have two boys, 15 and 13 and they keep me more busy than I like, driving them to various sports and sports training just about every day of the week. Oh well, as they say, there is no rest for the wicked.