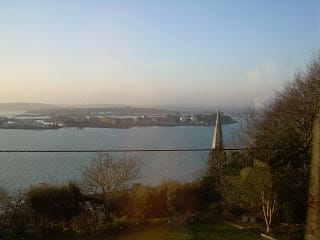 A few weeks back I visited Ireland for the first time. Caroline booked us into a guesthouse/B&B called Amberleigh in Cobh, formerly Queenstown after a visit from Victoria and now pronounced 'Cove' i.e. when Southern Ireland gained independence the residents changed the name to Cove but spelled it the Gaelic way so it means nothing in Gaelic and is nothing but confusing to English readers. Very Irish.
We booked in with hand luggage that then went through scanners along with jackets and belts. Caroline was searched again, but she often is. After this there was another set of scanners for our footwear. As usual, off to one side, there were bins filled with bottles of shampoo, gel, hairspray, deodorant etc.
Michael and Thelma were very welcoming. The guesthouse was a big Victorian building; high ceilings, spacious, furnished like a stately home and our bedroom, with its double bed rather than twin beds, overlooked the harbour – a view impressive at night, with lights reflecting off the water, and even better during the day.
The next day we woke to appreciate the wonderful views from Amberleigh. Downstairs we enjoyed a huge Irish breakfast, in my case: cereal with milk, orange juice, fresh coffee then bacon, eggs, sausage, black and white pudding, fried tomato and fried bread. I could feel my arteries creaking even as I ate. The harbour, which we could also see from the breakfast room was surprisingly huge to me, but as, over the next few days I began to learn something of its history (mostly from Michael), I again realised the truth in that 'travel broadens the mind'. Michael was involved in saving an island, in the mouth of the harbour, from being again built on and was also striving to have it turned into a world heritage site. Spike Island has a wonderful old prison on it and more history per square inch than you would ever find at Alcatraz. Tourism in Cobh would of course benefit hugely.
About the Guinness: it is better over there, but I've come to the conclusion this has nothing to do with the water – it's the frequency of use. Order a Guinness in Britain and because it's not drunk here very often the pint you'll receive has likely been sitting in the pipes for hours if not days. Order a pint of the same in Ireland and quite often you have to wait your turn. It comes out black as sin with a texture to the head like double cream on a floater coffee. Nectar.
We spent a few days in Cobh (it was for my birthday), then regretfully headed for home and chaos. Caroline was searched again and a tin of hairspray was confiscated from her bag – one the customs women missed on the way out.