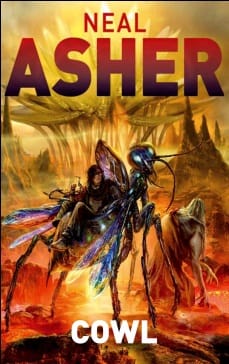 COWL: He is the summit of human evolution, and more vicious than any prehistoric beast.
Available from Amazon in paperback and kindle. Also from the Book Depository (free international shipping).
In Cowl Neal Asher seems to be doing to the time-travel adventure what he has been doing to space opera and planetary romance: to pump it full of performance-enhancing substances and send it crashing through a gigantically expanded version of its traditional milieu, exploding the big sets and sending body parts flying in all directions. -- Locus (Russell Letson)
'Readers with a taste for dense, high-concept science fiction will find much to admire in Neal Asher's Cowl' -- Washington Post.'Neal Asher can do no wrong, it seems. He possesses the ability to take on mammoth themes and make them original, credible and dynamic. Not to be read on a plane - this book deserves your full attention'  -- Dreamwatch (Colin Baker).
In the far future, the Heliothane Dominion is triumphant in the solar system, after a bitter war with their Umbrathane progenitors. But some of the enemy have escaped into the past, where they could position themselves to wreak havoc across time. The worst of these is Cowl, an artificially forced advance in human evolution … who is no longer human.
Polly knows no more than how to obtain the funds to support her habits. She is unprepared for her involvement with Nandru Jurgens, a Taskforce soldier, and the killers pursuing him. Nor is she able to resist the powerful attraction of the alien tor, which she is impelled to pull onto her arm… But she must learn fast as she is dragged back through time, not least that to the denizens of some eras, she is little more than a food.
Initially, the fragment of tor imbedded in Tack's wrist is the extent of his value to the Heliothane – a point that is brought home to him with bloody abruptness. But he is a vat-grown programmable killer employed by U-gov, and no stranger to violence. His long journey into the lethal world of the Heliothane is only beginning, and the extent of his mission just becoming apparent. And he must become more, he must change, and be changed…   
Meanwhile, hunting throughout time and the alternates, Cowl's pet, the torbeast, grows vast and dangerous. It sheds its scales where its master orders. They are tors – organic time machines to bring human samples to Cowl. And the beast feeds…
REVIEW LINKS
Excellent review by Paul Di Filippo here of the American issue of Cowl:http://www.scifi.com/sfw/advance/11_books.html
http://www.sff.tigerheron.com/editors-sf-picks-0508.php
Foreign and old covers:
Published:
19th March 2004
Genres: