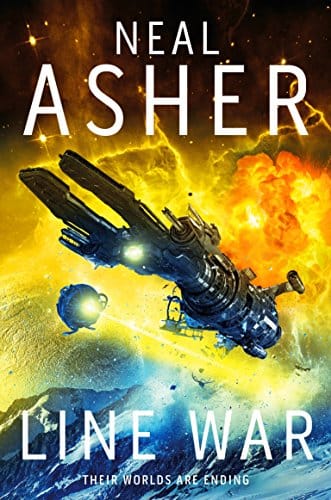 LINE WAR Available from Amazon in hardback, trade paperback, mass-market paperback and kindle. Also available from the Book Depository (free international shipping.
He doesn't do combat droids; he does razor-edged combat droids with attitude. He doesn't do alien tech; he does alien tech clumped like coral round desiccated bodies – floating in deep space with a deep desire to spear bits of his heroine -- Jon Courtenay Grimwood (SFX)
I won't be giving anything away by saying I came away from Line War, and the series as a whole, completely, thoroughly and immensely pleased. I saw everything I wanted to see and had answers to questions I wanted answering. –Walker of Worlds
The Polity is under attack from melded AI entity controlling the lethal Jain technology, but the attack seems to have no coherence. When one of Erebus's wormships kills millions on the world of Klurhammon, a high-tech agricultural world of no real tactical significance, Cormac is sent to investigate, though he is struggling to control an ability no human being should possess, and beginning to question the motives of his AI masters.
Further attacks and seemingly indiscriminate slaughter ensue, but only serve to bring some of the most dangerous individuals in the Polity into the war. Mr Crane, the indefatigable brass killing machine sets out for vengeance. Orlandine, a vastly-augmented haiman who herself controls Jain technology, seeks a weapon of appalling power and finds allies in those who fought in an ancient war.
Meanwhile Mika, scientist and Dragon expert, is again kidnapped by that alien entity and dragged to the heart of things; to wake the makers of Jain technology from their five million year slumber.
But Erebus's attacks are not indiscriminate, and could spell the end of the Polity…
Old and foreign covers:
Published:
4th April 2008
Publisher:
Tor
Cover Artists:
Genres:
Foreign and old covers: